National Ski Patrol - Southern Division
On October 2-3, 1971, all of the line officers, staff advisors and patrol leaders of the Deep South Region of the Eastern Division met in an organizational meeting in Linville, North Carolina, to establish by-laws and an Executive Committee for the newly formed Southern Division of the National Ski Patrol system.
The first Executive Committee was made up of the Division Director and both Region Directors. At that time, there were only two regions: the Atlantic Region, consisting of the Carolina Highlands Section and the Virginia Section, and the Dixie Region, consisting of the Western Carolina Section, the Tennessee-Kentucky Section, and the Georgia-Alabama Section. The initial Division Board was also established, consisting of the Executive Committee and the five section chiefs.
From the final edition of LEAFALANCHE, Deep South Region Newletter, October 1971:


"We've come a long way in the past 8 years...from two volunteer area patrols to a National Division (and not the smallest one either!). The best is yet to come. As we enter into the 71-72 season we have our largest team yet! 15 area patrols, 5 sections, 2 regions, and 400 patrolmen. Instead of the single fall refresher at Asheville, we will have five this year, with the finest text yet produced.

Here in the south we can justifiably look with pride upon our past service and fast rise within the System. We have built our reputation on the genuine friendship and cooperative spirit that has become known as the "southern way". It is a reputation worth keeping."

Keith Argow
Division Director

Today, the Southern Division has grown to approximately 1200 patrollers, patrolling at 18 different mountains across 5 different states. Many Division members proudly serve at the national level.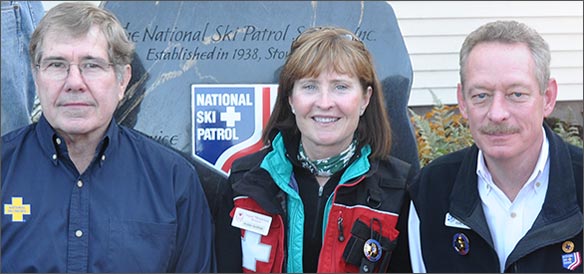 Southern Division Represented by (left to right) Richard Boyer, Robin Griffith, and Norris Woody at NSP 75th Anniversary at Stowe, VT. (photo by Candace Horgan)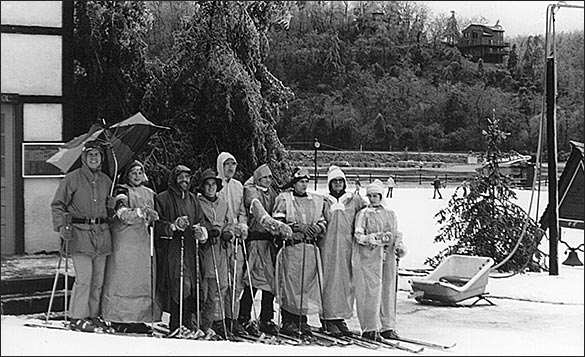 Bryce Ski Patrol - February 1979: The patrollers in this photo are the following from left to right: George Elliott, Patty Elliott, Bob Mason, Lacy Williams, Steve Lewis, Robert Leckie, John Leckie, Don Christian and Dawn Elliott. Lacy, Don and Steve were still on the Bryce patrol as of Feb 2012.
| | Term | Director |
| --- | --- | --- |
| 1 | 1971-1977 | Keith Argow |
| 2 | 1977-1979 | David Dillard |
| 3 | 1979-1981 | C. Harwell Dabbs, MD |
| 4 | 1981-1985 | Charles T. "Charlie" Benbow |
| 5 | 1985-1989 | Farris Jackson |
| 6 | 1989-1993 | Douglas Carlburg |
| 7 | 1993-1999 | Raymond B. "Bernie" Smith |
| 8 | 1999-2003 | Eunice "Nici" Singletary, MD |
| 9 | 2003-2007 | Neil Booth |
| 10 | 2007-2011 | R. Morgan Armstrong |
| 11 | 2011-2015 | Richard Boyer |
| 12 | 2015-2019 | Byrd White |
| 13 | 2019-Present | Tom Byron |
Southern Division Archivist/Historian