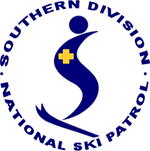 The Southern Division of the National Ski Patrol has approximately 1200 patrollers, patrolling at 18 different mountains across 5 different states.
Contact information and a list of the mountain websites may be found here.
The new edition of The Southern Cross is now on-line.
Division Director Elections
Tom Byron has been re-elected to another term as the Southern Division Director.
OEC 5 and OEC 6 Editions
A powerpoint of the differences between the OEC 5 and OEC 6 Editions was presented at the 2020 Patroller Conference. A copy may be found here.