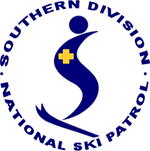 The Southern Division of the National Ski Patrol has approximately 1200 patrollers, patrolling at 18 different mountains across 5 different states.
Contact information and a list of the mountain websites may be found here.
The new edition of The Southern Cross is now on-line.
Southern Division Telecommunications Advisor
We would like to welcome Michael Stanford (Beech Mountain Patrol) to the Southern Division staff as our new Telecommunications Advisor. Michaels contact information has been posted to the So. Div. Staff information page on this website.
Please welcome Michael and put him to work as your reference for any of your telecommunications needs.
Welcome and look forward to working with you Michael.
OEC 5 and OEC 6 Editions
A powerpoint of the differences between the OEC 5 and OEC 6 Editions was presented at the 2020 Patroller Conference. A copy may be found here.